Aseptic & Pharmaceutical Filling Equipment
Aseptic Processing Machinery
AST is the leading innovator for flexible aseptic filling and closing machines for sterile injectable applications and life sciences products. Our goal is to provide the most flexible, reliable and safe aseptic and pharmaceutical processing solutions that enable pharmaceutical companies to bring their products to market quickly and cost-effectively. With the ability to fill and close vials, syringes, and cartridges our customers have a single machine that addresses current product needs and uncertain future pipeline demands.
Our aseptic processing machinery systems integrate proven industry technologies to reshape the traditional aseptic manufacturing approach to one that is lean, flexible and meets the highest standards in aseptic design. The breadth of our product portfolio provides aseptic equipment solutions for every step in the drug development process from early phase development to commercialization.
ASEPTiCell®
GENiSYS® C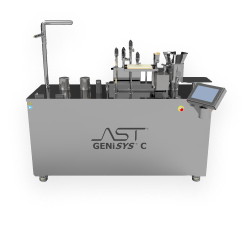 GENiSYS® Lab
GENiSYS® R
Ready to get started?
Request a consultation to get started